Many little girls dream of the perfect princess bedroom; fantasizing about the poster bed with an ornate tester, pink and purple color palette, precious floral prints, and glitz galore. Although we may eventually give up on our tiara and magic wand ideations, as we become young career women, wives and/or mothers, we secretly never let go of our inner desire to live in a space fit for a princess.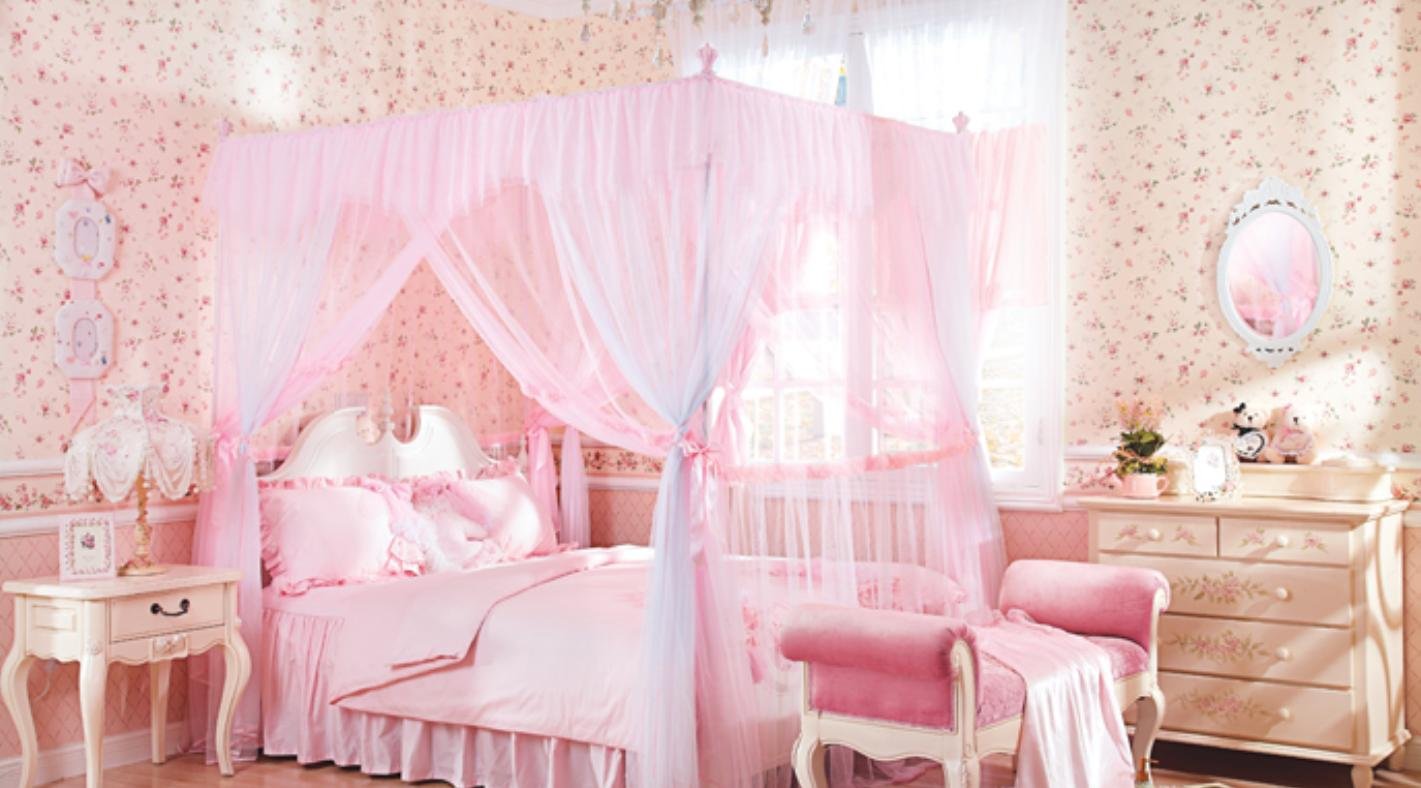 The blessing and the problem comes for some of us when "Prince Charming "rides into our castle, tossing his shining armor on the chair and trampling on our royal décor with his white horse. Now someone else has to live and function in our fantasy home and he often dethrones our preconceived design sensibilities. Merging glamorous feminine style with masculine bravado can be an especially difficult dilemma when designing a particularly personal space like a shared bedroom.
Once upon a time I was a young woman. I married my "Prince Charming", and we built our first "starter" castle together. The castle was nice, but fairly cookie cutter. All the walls where adorned in the not-so-royal shade of builder off-white and we had very little furnishings. We spent most of our free time trying to make our mark on the home. Gradually, we painted and furnished the rooms one at a time, starting with the public spaces; living room, dinning room, family room, and kitchen.
After two years of living in DIY bliss, I had given birth to our first heir, and was eight months pregnant with the spare. By this time all of our public spaces were looking fairly put together and we, of course, had the nursery and "Big Sister" room completed as well. It was finally time to take on the master bedroom. We had purchased a queen size, rice-carved, poster bed early on, but had never moved any further with the interior design. This was the moment I had dreamed of since girlhood. I was finally going to get my dream bedroom. Lucky for me, I was pregnant! Although my "Prince Charming" may have had an eye roll or two at my décor choices, there isn't a husband alive who is brave enough to challenge a woman with swollen ankles, heartburn, insomnia, and Braxton Hicks contractions.
My mother handmade for us a beautiful black and rose quilt and that was to be my design inspiration.

Spending hours at the wallpaper store, mind you with a toddler in a dirty diaper making havoc in the play area, I painstakingly chose a large-scale wallpaper border with giant rose-colored cabbage roses and black accents. There would also be a rose and white stripe paper for the bathroom with a smaller cabbage rose companion border. Please don't judge, keep in mind that this was the early 1990's and I was, as always, on the cutting edge.
I sat on my little throne outside the bedroom door supervising; careful not to inhale any harmful paint fumes. My "Prince" rolled the walls in the perfect color of deep rose. Only much to my dread, when the paint dried it turned a shade of dark mauve that was reminiscent of a bad mother-of-the-bride dress.

I tried my best to convince him to repaint, but the fact that I was uncomfortably carrying his child was not enough leverage to get him to agree. However, with a flood of hormonal tears, I was able to talk him into trying this new and trendy paint technique called "sponge painting". Again, please don't judge.
Under my meticulous tutoring, he bitterly dipped an enormous sea sponge into white paint and dabbed it over every inch of the mauve. The result was a look that resembled giant, foggy, pink cotton balls and I was ECSTATIC! The next weekend we put up the wallpaper and the border, I made girly window treatments, and we bought two pink wingback chairs to complete the sitting area. I now had my early 1990's dream bedroom and only an end to my false labor could have made me happier. Unfortunately, the glee would be short lived.
Dorsey Marie Ziller Born February 15, 1994
A few weeks later, I gave birth to our beautiful second daughter and we brought her home from the hospital. As is customary, we were bombarded with friends, family, and well-wishers all stopping by to see the new baby and bearing gifts. One morning the doorbell chimed and I was pleased to see one of my neighbors at the door with a smile on her face. She had small children of her own and we spent the next thirty minutes talking about labor and delivery, children, life, and home. Some how the topic of my newly decorated bedroom came up. She was dying to see it.

So with great pride I invited her upstairs to take a look at my other new baby.

Her reaction was not what I expected. Upon seeing the room she remarked, "It's very pretty, but how in the world did you get Pat to agree to this. I could never get my husband to sleep in a pink room with all these flowers!"
I couldn't believe what she had just said to me. Her pin just popped my bubble and I was so insulted.

How rude! Wasn't the fact that I had just given birth to our second child evidence enough that I had absolutely no problem getting my husband to sleep in our bedroom? Fortunately, the baby began to fuss and my not-so-polite nieghbor politely excused her self and went home, leaving me doubting my choices in a post-décor-partum depression.
As time has passed, I can now laugh at my era-specific design choices and myself. In retrospect the room was extremely feminine. The fact that I had a wonderful "Prince Charming", who cared more about me than where he slept, was not a good excuse for foisting my girly dream room upon him. Although I was quite indignant at the time, I must admit that my annoying neighbor's words have stuck with me over the years.

Each time I start a new interior design project, I recall her words and ask myself, "Who will want to live in this space?" Now that my girl's have left for college, it's just me, my husband Pat, and son Cory. I am acutely aware that the testosterone outweighs the estrogen in my home at this point.
As I have matured in my design sense, I've realized that the best interior designs incorporate both feminine and masculine design elements. Well-designed rooms should be welcoming, appealing, and comfortable to all who spend time there. Good design has something for everyone, prince or princess alike.
THE DESIGN TOPIC OF THE WEEK:
Masculine vs. Feminine: Designing Shared Spaces
I am a firm believer that everyone should treat themselves to a beautifully decorated bedroom. So often, it is the most neglected room in our house. We tend to spend most of our time, energy, and budget on the public spaces in our home; convincing ourselves that nobody important spends time in our bedroom and that we should concentrate on the areas that entertain and impress our guests.
I maintain that this is faulty thinking.
Most of us only entertain guests once a month and some probably far less than that. However, we all use our own bedroom everyday. It is the place where we retire each evening to rest and recharge for the next hectic day and the first place we see when our eyes open in the morning. Our bedroom has always been my little place of quiet escape when the kids and the chores got overwhelming. It is a place for alone time and romance. We all need to tell ourselves that we are important and that we deserve a room that relaxes us at night, inspires us in the morning, and promotes romance in our relationship all year long.
Originally I thought that I might call this post "The best things I know, I learned in a hotel" but I didn't think my mother would approve. However, it is a very true statement for me when talking in terms of bedroom design concepts. I travel a lot for work and have stayed at all kinds of places, from the worst budget-hotel to the nicest four star establishment. My husband and I have also been fortunate enough to have taken some really nice trips prior to the onslaught of college tuition. It has been my personal goal to make our room feel like a very nice hotel. We all know how good a vacation makes us feel, well I am greedy and I want to feel like I am on vacation 365 nights a year. If you have a stressful job or existence, a well designed bedroom can change your life. Here are my tips for making your room a vacation spot.
The hotel doesn't know if the guest checking in is a male or female, so the designer combines masculine, feminine, and neutral design elements in the execution of the room's decor. That way everyone feels welcome regardless of their gender. I recommend doing the same in your own room, especially if you share it with a person of the opposite sex.

I have never seen a bed with a footboard in a hotel. I believe this is because a footboard makes it harder to change the bed linens and it takes up visual space making the room seem smaller. Opt for a dramatic headboard and avoid using a footboard. It will open up your space and make your chores easier.

Often hotels have a bench at the end of the bed so guests can sit and remove their shoes or have a place to drop the items they are carrying. It finishes off the look of the bed like a footboard but is much more useful.

After a hard days work when you return to your hotel room, the bed is always made and the room is always clean. Get in the habit of building ten extra minutes into your morning routine to make your bed and pick up your room. You'll thank yourself in the evening when you are tired and want an uncluttered space in which to relax.

When making your bed, let your top sheet hang longer at the top so you can fold it over the edge of your bedspread, blanket, or comforter. That way the only thing that touches your face is the smooth sheet.

Hotels only use white sheets. For that four star look and feel, donate those colored and printed sheets and buy yourself a set of white sheets in the highest thread count you can afford.

Many hotels turn the covers and sheets down when making the bed. I find that very inviting. It's like the bed is just waiting there neatly and patiently for me to slip under the covers. Also, turning back and exposing the sheets contrasts the spread or comforter and adds layered interest to the look of the bedding.

Hotels usually keep the artwork simple, not filling every inch of wall space. I recommend using only a few special pieces of artwork to keep the space feeling light, uncomplicated, and relaxed.

And finally, I love those blackout curtains that many hotels have under their draperies. If you don't have blackout drapes, make sure you install good blinds or shades to keep out those pesky rays of light that ruin your occasional well deserved sleep-in.
When designing my own bedroom I have implemented all of these great hotel tips and it has made a big difference in my stress level. I have also made a lot of progress since my days of pink cabbage roses. My current bedroom now reflects both the feminine and the masculine point of view and my husband and I both feel equally at home in the space.
When we moved our life to Pittsburgh almost two years ago, we came with the large amount of furnishings that a twenty-three year marriage accumulates. Although my greatroom dimensions required us to purchase new furnishings to fit the space, I knew we could not afford to start over with new in every room of the house. We had some really great pieces and I had to find ways to make them work with the new floor plan. When renovating the master bedroom last summer I was successfully able to use pieces of furniture that we already owned. In fact the only things that I purchased for this room were paint, new bedding, a second-hand occasional chair, ready made drapery panels and hardware, and a few accessories.
Years earlier I had swapped out my old, tall, four poster bed for this unique head board. In fact, the head board isn't really a head board at all. It's a large rustic wall mirror with a primitive painting at the top. The feminine touches in the floral painting and the sparkling glass are counter balanced by the masculinity of the rough hewn wood, square shape, and sheer massiveness of the mirror.
The coverlet's sheen and delicate embroidery give a lovely ladylike impression which is offset slightly by the neutral color. The ladies prevailed on the bedding but the gentlemen won the walls which are painted in boyish Copenhagen Blue (Sherwin Williams SW 0068).
The women's touch is again brought in with the accessories.
Next to the bed, three smaller vintage pictures create a large piece of artwork when stacked by graduating size (left). The large ceramic birds, on both night stands generate dramatic symmetry. They were purchased for under $20 at Home Goods. A vintage pattern-glass candy dish holds my night time necessities; lip balm, reading glasses, and cell phone (right).
I am a silhouette addict and I must have one in every room.
The Victorian fireside bench, that sits at the end of the bed, was inherited from my Uncle Roy. I have recovered the seat three times since owning it. This time, I used the pale blue, Greek Key fabric to coordinate with the occasional chair's seat cushion.
As you can see I have come a long way since my days of wallpaper roses and girly pink chairs. It's been a lengthy journey but I have learned from my experiences along the way. I've learned that living like your on vacation is better than living for your vacation, I've learned that sometimes you need to treat yourself with the same graciousness that you give to your guests, and I have learned that a feminine room designed for a princess isn't really my dream room after all.